In these difficult times we must follow the guidance from the government and avoid all unnecessary social contact.  We are therefore unable to offer routine driving lessons until government advice changes.
We may be able to assist driving test candidates and those who are almost ready for their tests if ALL of the following apply.  This is completely discretionary and we are not guaranteeing this service whatsoever, but please get in touch if you need urgent help and we will see what we can do...
1) You have already had driving lessons and are considered to be almost test ready, or test ready, or have previously failed your test.
2) You have no symptoms and have not been around anybody who has symptoms.
3) You are a an essential worker/key worker who genuinely needs to pass your test to get to work and has access to a car to drive after passing the test.
4) You have emailed the the DVSA on 

This email address is being protected from spambots. You need JavaScript enabled to view it.

 to check whether you are eligible to sit the driving test and have a written response from them confirming that you may take the test.  
5) You are able to email a copy of your provisional licence and permission from the DVSA to 

This email address is being protected from spambots. You need JavaScript enabled to view it.
We will then need to speak to you on the telephone to make an assessment of whether we are able to help you.  Thank you for your understanding in these unusual circumstances.
Hello, my name is Paul, welcome to Monarch Driving School Automatic - for automatic driving lessons in St. Helens. I am here to help you to learn to drive the modern and efficient way - in an Automatic vehicle.  Learning to drive in an automatic car is becoming increasingly popular amongst people of all ages. Approximately a quarter of new car sales in the UK are automatic, proving that automatic is a popular choice, even for those who have a manual driving license.
With the government's deadline of 2040 for us to cease using petrol and diesel vehicles we will all be changing to electric vehicles over the coming years.  Electric cars are all automatic - so why not simply learn to drive in an automatic car and make learning to drive quicker, easier and cheaper!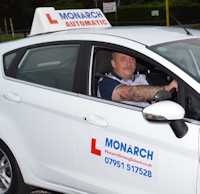 Why choose automatic driving lessons in St. Helens?
Monarch Driving School customers have long been telling us why they have chosen automatic driving lessons. Here are some of their most common reasons:
"I want to learn to drive quickly, without the fuss of the clutch and gears"
"I simply can't co-ordinate both feet and hands in a manual"
"I've tried manual driving lessons and I got frustrated when I kept stalling the car"
"I'm scared. I need to learn to drive but I've been putting it off for ages, perhaps learning in an automatic will be easier and I won't be as scared"
"I really don't care, so long as I'm driving ASAP then I don't care whether its manual or automatic - whichever is the quickest and easiest"
"I have a disability that prevents me from learning to drive in a manual car"
"I think that driving an automatic is safer as I won't be distracted by the clutch and by taking my hand off the steering wheel to change gear"
"English is my second language so automatic will be easier for me"
Yes, its true, learning to operate an automatic car is easier compared with a manual, coupled with your good attitude, willingness to learn and desire to be a safe driver your driving instructor will be on hand to guide you through this life changing process. Due to the car being easier to operate it is likely that you will need less driving lessons than if you were to learn in a manual car. Your driving instructor will always teach you as efficiently as possible, but your progress will also depend on your levels of commitment, nervousness, communication skills and determination.
How To Get In Touch
For information regarding availability or to discuss your own personal circumstances please get in touch via the contacts page or by calling/texting Paul on 07795 158511