Manual Driving Lessons in St. Helens with Karl Jones ADI
Hi, my name is Karl and I have been a driving instructor since 2009. I am a great believer in that lessons should be challenging and fun. That is my basic philosophy. My teaching style is very client centred which means I get you to participate in your lessons at every level. I will always ask you about your opinion and between us we will come up with any required solutions to problems that may occur. It's very much a team effort between you and me.
I adapt my approach depending on client needs. We are all individuals and as such different people need different approaches. So if you are a nervous driver, confident driver, total beginner or experienced learner, I can help you.
So whatever you are looking for in your driving tuition we can discuss and come up with a plan to progress your learning experience.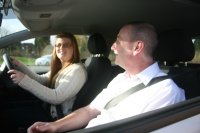 A RELIABLE DRIVING INSTRUCTOR WITH A CLIENT CENTRED APPROACH
Driving School Services with Karl Jones ADI in St Helens:
Fully qualified Approved Driving Instructor (ADI)
Dedicated to teaching learners in St. Helens for over a decade
Client centred learning approach
All levels of driver training
Learner drivers of all abilities, background, age and experience welcome
Refresher and motorway lessons and Pass Plus
Re-qualification lessons for banned drivers
Ethical driving school - No price gimmicks or time wasting
All levels of driver training
FREE online theory test training kit Theory Test Pro for all Monarch students
Client centred learning approach
 Driving Lesson Prices for all categories of driver training with Karl Jones
| | | |
| --- | --- | --- |
|   | Duration | Price |
| Short Lesson | 1 Hour | £30 |
| Standard Lesson | 90 Minutes | £42 |
| Extended Lesson | 2 Hours | £52 |
| *Prepay 10 Block/Course | 10 Hours | £260 |
| *Prepay 20 Block/Course | 20 Hours | £499 |
*All pre-paid lessons are to be taken within 6 months of payment. 
Recommended Lesson Duration
Students who wish to accelerate their learning whilst also saving money should consider the standard and extended driving lesson options.  Students who take 1-hour lessons spend considerably more on driving lessons than those who take the short 1 hour lesson.  Teaching is far more efficient when we have adequate time and I wish to save my students money by ensuring that we have a realistic amount of time to accomplish our goals in each session. I do however understand that everybody is different and that individuals need to choose what suits their personal circumstances, for which I am more than happy to work with.
Cancellation Policy - 48 Hours
When you book a driving lesson/course with Karl Jones @ Monarch Driving School you are agreeing to the following policy.
It is important that the driving instructors appointment times are not wasted, it is very frustrating for candidates who want driving lessons but cannot get an appointment with a good driving instructor. We must therefore ensure that the instructor's time is utilised well and keep cancellations and no-shows to a minimum. We therefore request that students give a minimum of 48 hours notice when cancelling/changing a driving lesson appointment. If 48 hours notice (sufficient time for your instructor to offer the appointment times to other candidates) is not given then the driving instructor has the right to take payment for the lesson. By booking a driving lesson with Monarch Driving School then you are agreeing to this policy and accept that you are responsible for paying for your appointment if you cancel without providing 48 hours notice. Please see the full Business Terms here.